When it comes to internet marketing, there are a lot of products online. A search engine submitter software claims to help you rank higher in Google by providing more backlinks to your site. Should you buy it? Should you use it? As a new marketer viewing their sales page, you may think that it is the greatest thing since sliced bread. While it does work effectively, I am not giving it flying colors just yet.
Name: Magic Submitter
Website: magicsubmitter.com
Price: $4.95 then $67/month
Owners: Alex Krulik

Overall Rank: 60 out of 100
Magic Submitter, Product Overview
Magic Submitter is an article submission software. The goal of this software is to create backlinks to your website. It will spin your articles and submit them to multiple different article sites and search engines. It automatically creates hundreds of accounts for you and verifies them for you. Article submitter will spin your articles for 100% original content.
Article submitter will deal with those nasty captchas for you.
It automatically sets up backlink campaigns that run for weeks. It will ping and backlink your submissions.
Article submitter also instantly creates reports of the article submissions and acceptances. Your content may appear on blog sites, article sites, forums, press release sites, micro blogs and niche sites.
The Good & the Bad
The Good:
PRO #1: This software does work. It will spin articles for you and it will submit the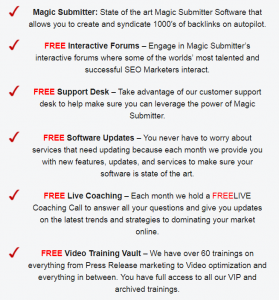 m to article directories.
PRO #2: The software is relatively affordable for the first month. You can get a lot of mileage out of a month's worth of submissions. However, if your site isn't already ranking in Google, this is no real guarantee that you'll make it to a first page ranking.
PRO #3: Your content will be submitted to over 2000 different content and social media sites. It takes care of the captchas, so you don't have to worry about those and spend time on them.
The Bad:
CON #1: The search engine algorhythms aren't giving backlinks as much value as they once did when determining the ranking of a website. This technology is rather dated and not as useful as it once was.
CON #2: Having thousands of articles submitted does not mean that they will show up in search engines. If there is duplicate content, only the first one will show up. You could be penalized for submitting duplicate content.
Who is Magic Submitter for?
Magic Submitter was created for the professional affiliate marketer who wanted a leg up on the competition and a super fast way to achieve first page rankings in Google. Now its usefulness may be in to the search engine specialists that work on getting first page rankings for businesses.
Magic Submitter hasn't kept up with search engine algorhythms. Search engines have been adjusted to look for more than simply backlinks to a website. Having a new site with tho
usands of backlinks to it may actually be a red flag for search engines.
Magic Submitter Tools & Training
Magic Submitter comes with free support, over 60 training videos, a monthly live coaching call, and interactive forums where some of the most talented and productive SEO marketers interact. You should easily be able to discover how to use this tool and determine if it is right for you within the month that it is only $4.95. After that, the price goes up.
What is great about this is that there is a community of people who are using it. They can teach you how to get the most out of the product through
the interactive forums, monthly coaching and training. However, I suspect, you'll still have to become very active with your social media in order to rank well.
Magic Submitter Support
You can get support for the magic submitter software from the free support desk. They are more than willing to answer any of your technical questions. They do provide free software updates to ensure that the software will work for you.
You can contact support at support@magicsubmitter.com if you have any questions, comments or concerns. You can also contact support through skype – okrulik. They do have a money back guarantee and this is the email that you use if you want to take advantage of that!
Magic Submitter Price
The price of Magic Submitter is $4.95 for the first 30 days and then $67 each month after that. In my opinion, this product is overpriced. You are getting training on a software that create backlinks. You are better off getting the most up to date affiliate marketing training from Wealthy Affiliate at $49 per month and submitting your sitemap to google yourself. It doesn't take very long at all.

My Final Opinion of Magic Submitter
Magic submitter is an effective software at spinning articles and creating backlinks to your website. However, I think that this is dated technology. Search engines are looking for more than simply backlinks to websites in order to rank them. They are also looking for quality content, social media shares and likes as well as comments and interaction on your website.
While magic submitter was a great product a few years ago, it has not kept up. However, if you are active in the forums, you can discover ways to maximize the usefulness of article submission in your online marketing campaigns.
Magic Submitter at a Glance…
Name: Magic Submitter
Website: magicsubmitter.com
Owners: Alex Krulik
Price: $4.95 then $67 per month
Overall Scam Rank: 60 out of 100
VERDICT: NOT LEGIT
This is one product that I think is no longer necessary to rank well in Google. I think affiliate marketers are better off going to Wealthy Affiliate and going through the training of how to improve your rank. Search engines are getting smarter. While you may gain a few article hits, you are better off creating more quality content on your main website and sharing it via social media.