Clickbank offers a lot of opportunity to make money online. The products on clickbank are digital products that are usually simple downloads. Due to the fast and inexpensive nature of delivery, clickbank is one of the highest paying affiliate networks around. It is also one of the easiest to qualify for and to make money from! Whether your website is about dating, internet marketing, health and wellness or creating art, there are products on clickbank that your audience will be interested in discovering and you can make money with your affiliate link!
Step 1: Go to the Website.
First and foremost, you will want to go to the website, http://clickbank.com. From this page, you will click on Create and Account. The Create Account link is the big gray button in the upper right-hand corner. This will take you to the next step, which is entering your personal information.

Step 2: Enter Your Personal Information
You do need to enter your personal information when signing up for an affiliate program. The Create Account link is so they know that you are a real person and they can pay you. Clickbank requests your name, email address, phone number, and physical address.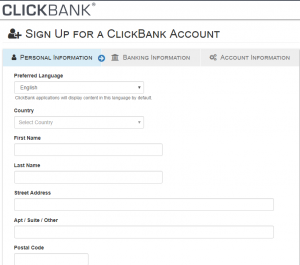 Step 3: Enter Your Banking Information and Tax ID
Many people do not like to give out their banking information and for good reason, there are a lot of people who may try to hack into your account. However, Clickbank is a reputable business. I have earned money from them and received checks from them. Other internet marketers have done so as well. Clickbank has been around for many years and is a very trusted affiliate network. Luckily, you don't have to enter your bank account information, just the bank that use.
They do ask for your tax ID number, which is going to be either your business tax ID number or your social security number. The Create Account link is for tax purposes, so the government can take their share of what you earn. It isn't fun, but it is required.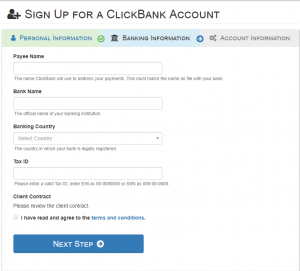 Step 4: Receive Your Account Information
You will be assigned your affiliate code that goes on the end of the hop links. This allows for the tracking of sales and enables them to pay you affiliate commissions. It is that simple! Clickbank is one of the easiest affiliate networks to sign up for! You can start earning commissions right away.
Step 5: Start Earning Commissions with Clickbank
Becoming a clickbank affiliate is the easy part. The more difficult part is deciding what and how you are going to market your products. That is where wealthy affiliate can help you out. Many people sign up for affiliate programs, but then don't follow through with the real work of creating content that sells the products.
Just sharing your affiliate link to your Facebook friends and family may get you a few sales, but you'll really want to ramp up those sales. While there are thousands of products to choose from on clickbank, selecting the right one for your audience is one of the keys to your success.
When it comes to affiliate marketing there are two main routes to driving targeted traffic to your affiliate links. You can create pay per click advertisements and target the audience through advertising and you can become a content creator and use the power of search engine optimization to gain interest in your website where you strategically place your links.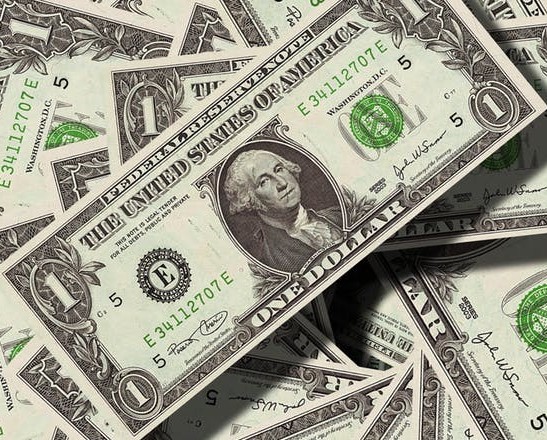 Both techniques are very effective, but they do require you to learn how to effectively do them and master them. Wealthy affiliate is a great training resource to help you master the art of content creation along with affiliate link placement and learning how to drive traffic to your website.
Facebook rush is a good product for people who are interested in learning how to create effective affiliate marketing campaigns on Facebook quickly and effectively. It does require that you start out with a budget for your affiliate marketing campaigns though.
Pay per click requires you to start out with more money than time, whereas, creating content is great for those people who have more time than money and are a bit creative. Either one is acceptable to use with clickbank products!
You can even use a combination of the two and share your review of a clickbank product on social media while creating a boosted Facebook post that targets a certain group of individuals based on age, location and interests to maximize your results. Since I know that in the beginning, you will make a lot of mistakes, I chose to start with content creation to get an idea of what my target market was interested in purchasing from clickbank. It did take me a couple of months, but after reviewing a bunch of products, I found one that sells consistently. The wealthy affiliate training helped me to stick with it as I made mistakes along the way. The community support enabled me to make the corrections that I needed as I went along.
Becoming a clickbank affiliate is definitely worth your time and can add money to your pocketbook! I highly recommend it. It is simple and fast.