Name: Mike Brescia's Setting and Achieving Goals Program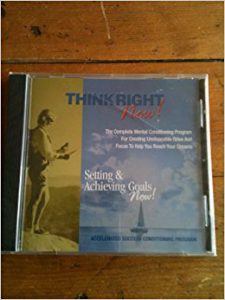 Website: http://www.thinkrightnow.com/c…
Price: $34.97
Owners: Mike Brescia
Overall Rank: 88 out of 100
Mike Brescia's Setting and Achieving Goals, Product Overview
This product is a CD. It has a nice background music that has a certain number of beats per minute to put you in a meditative state. The audio repeats positive affirmations that are based on the thought patterns of the most successful people in the world.
The Good & the Bad
The Good: It is extremely easy to use and implement in your life.
PRO: Very inexpensive.
PRO: Very easy to implement into your life.
PRO: Will produce positive results over time.
The Bad: Not remembering to do it may jeopardize your results.
Con: I have forgotten to use the program and the progress I made disappeared before the results were in place
Con: Listening to the affirmations can sound repetitive and boring. It is easy to want to give up before the three to six months that are required to see results.
Who is Setting and Achieving Goals for?
This is ideal for college students looking to excel in life. It is perfect for busy adults who want to change their lives.
Setting and Achieving Goals Tools & Training
The great thing about the Setting and Achieving Goals program is that there is no learning curve. There is no training. You simply listen. You reprogram your brain by hearing the positive affirmations over and over. As you hear them more and more, you start to adopt those attitudes into your life and your behavior begins to change. It doesn't require much thought on your part other than to hit the play button consistently for a few months!
Setting and Achieving Goals Support
There really isn't much support that goes along with this product. It does, however, have a money back guaratee.
Setting and Achieving Goals Price
This CD is $34.97. While that may sound like a lot for a CD, it really is reasonably priced. It can get you to reprogram your thoughts first, which leads to changing your actions. It really can make a huge difference in your life when you can set and achieve goals.
My Final Opinion of Mike Brescia's Setting and Achieving Goals Program
I highly recommend this program. It is very simple and easy to use. It can be listened to while you are working out, working, or sleeping. As you consistently listen to it, you will discover that you life is changing for the better. You are thinking and focusing on setting and achieving goals instead of procrastinating and avoiding tasks.
Setting and Achieving Goals Program
Name: Think Right Now – Setting and Achieving Goals
Website: ThinkRightNow.com
Owners: Mike Brescia
Price: 34.97
Overall Rank: 88 out of 100
VERDICT: LEGIT!