I took a bit of a break from writing my own blog, so when I sat down to write today, I had to think about what topic that I would write about. Sometimes, it is great to just be assigned a blog post idea as a guest blogger and write. However, when it comes to my own blog, it can be a bit of a challenge to determine a topic. Therefore, I decided it is a good idea to focus in on coming up with creative blog post ideas.
This not only helps me come up with some content, but doing the research helps me to generate ideas for future blog posts. Hopefully, dear readers, you'll discover some gems that you can tap into for blog post ideas.
Alltop
The Alltop website was founded by Guy Kawasaki. Their goal is to help answer the question, "What's happening?" for topics that interest you. It is a list of recent posts from all the best blogs around the internet. Alltop covers everything from finance to fashion. Simply select your topic and you'll be shown the posts relating to that topic from top blogs in the industry. It is an excellent way to see what is happening.
Jaaxy
Jaaxy is Wealthy Affiliate's keyword tool. When you type in a keyword, it will generate other keyword suggestions for your. If you glance to the sidebar, you'll see a list of potential blog post titles. From there, you can generate some ideas for your next blog post. It also gives you a good idea of whether you'll be able to rank for those keywords easily.
Tweak Your Biz Generator
The Tweak Your Biz Title generator will create a list of potential blog post titles for you. The ideas are grouped in various categories. If you're not incredibly creative when it comes to blog post titles, this free tool can come in really handy. This tool is great at generating a lot of catchy titles.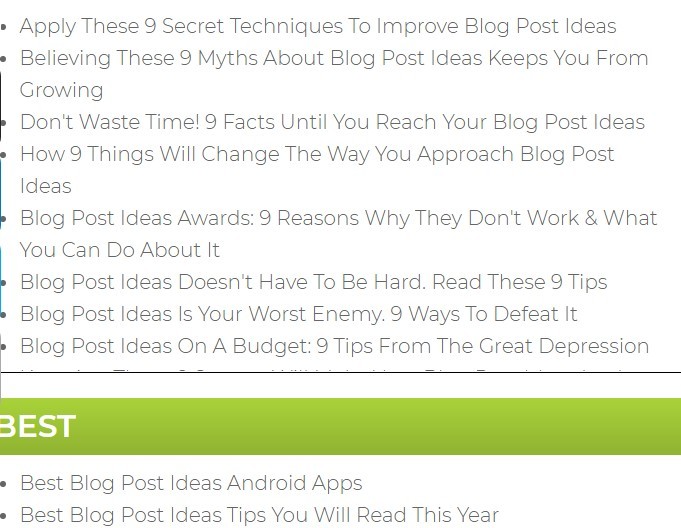 Content Strategy Generator Tool
Daniel Butler has a nifty content strategy generator tool. It is used to generate new blog topic ideas. To use it, you simply enter a phrase and the tool will scan the web for the latest related news and articles. For example, entering the keyword "mortgages" produces a huge list of great topics from popular sites, such as Reddit, Twitter, Yahoo Answers, Fark, and Google News.
Ahrefs Content Explorer
Ahrefs is essentially a mini search engine. It is powered by Ahrefs' huge database of almost one million web pages. It will generate content ideas if you enter a topic and high search. You'll get a range of results. It is like a regular search engine, but it differentiates itself because all the results are filterable by Domain Rating, word count and estimated monthly organic search traffic and the number of linking domains. Therefore, it is powerful for finding low-hanging content opportunities. For example, you can filter your results by referring domains and estimated monthly search traffic. You'll then have a list of topics that will be easy enough for you to rank on the first page of google without building tons of links.
Ubersuggest.org
Ubersuggest.org is a great tool to generate topic ideas for new blog posts. Ubersuggest produces a long list of results after you type in a word or phrase. Theses suggested phrases are grouped from A-Z. It also includes the SEO difficulty and paid traffic difficulty.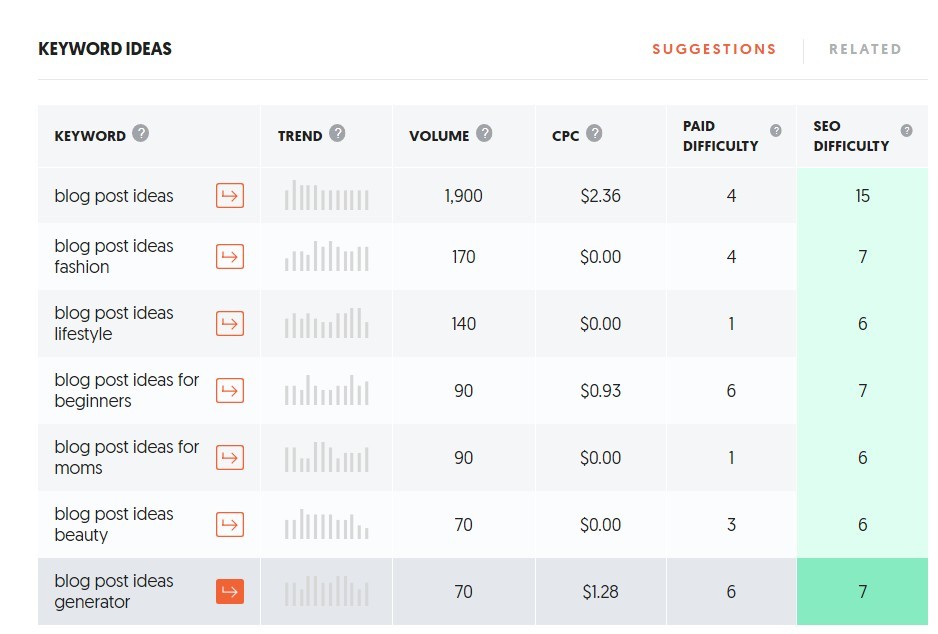 Check For Tweets
When it comes to blog post ideas, most people don't even bother to see what is trending on twitter. That is unfortunate. You should run a twitter search using your keyword proceeded by a hashtag (#blogpostideas for example) to discover a list of tweets containing your keyword.
One of the great things about Twitter is that it is one of the most up-to-date conversation tools online. You can find out how long ago your topic was in the news or if people are still talking about it this minute. From the conversations that people are having, you should be able to generate some creative blog post ideas.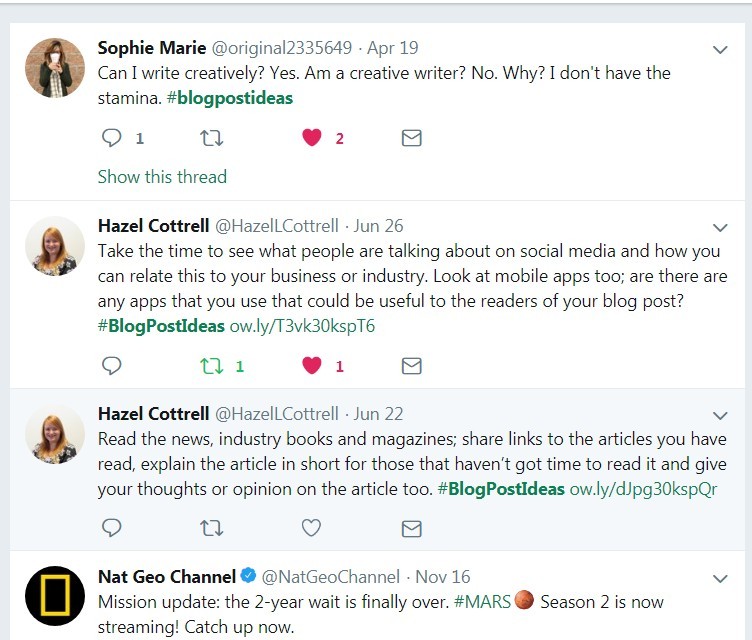 Quora
Quora is an excellent way to discover creative blog post ideas. Just check out what people are talking about. Answer commonly asked questions by users in your industry. Enter a word or phrase into Quora to discover the questions the users are asking related to this topic.
In Quora, you can also click on "Top Stories" and "Trending" to dig deeper for creative blog post ideas. Quora can help you stay at the forefront of the industry topics.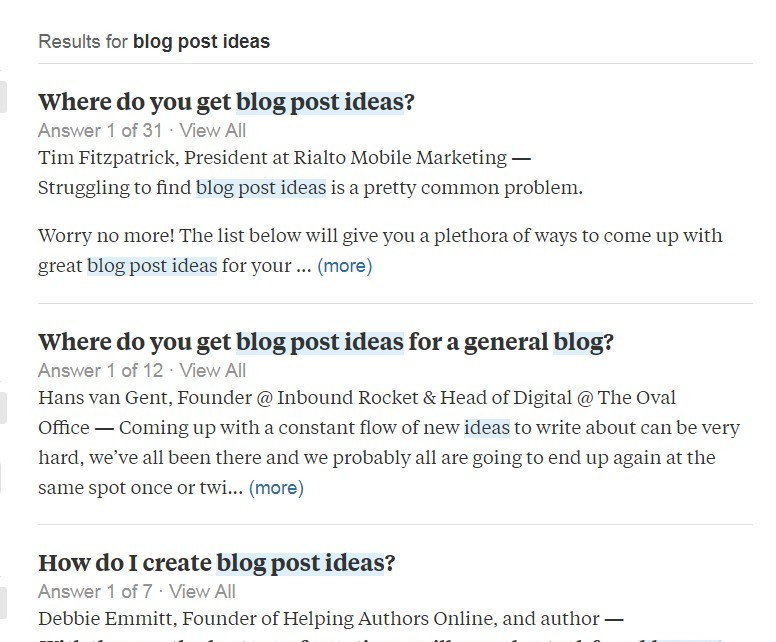 Your Competition
Checking out what your competition is writing about is a great way to generate blog post ideas. If you're a great writer, you can probably come up with a blog post that is better than your competition's latest post. Additionally, if your competition is talking about it, it is likely to be important to the industry. Make sure that your blog post is original.
Amazon's Bestseller List
A great place to go for blog post ideas is straight to Amazon. Find out what is hot in your industry and write a review post. Many people are looking for reviews of products. The Amazon best-sellers let you know what is hot now. You don't have to buy the latest book to review it. Head on over to your library and check it out.
If you want to review the product, you should purchase it or check it out at the store. You can create criteria for reviewing the product. As long as you are honest about whether or not you purchased it, you can review the product. Your review post could simply be a compilation of the reviews that are already online about the product and your overall opinion about whether it is worth purchasing.
BuzzSumo
BuzzSumo can give you a great idea about what type of content is being shared in your industry. Simply type in your keyword and it will generate a list of related topics along with the number of social media shares and engagements. As you can see from the example below using "blog post ideas," actionable blog post ideas readers will love got the most engagement.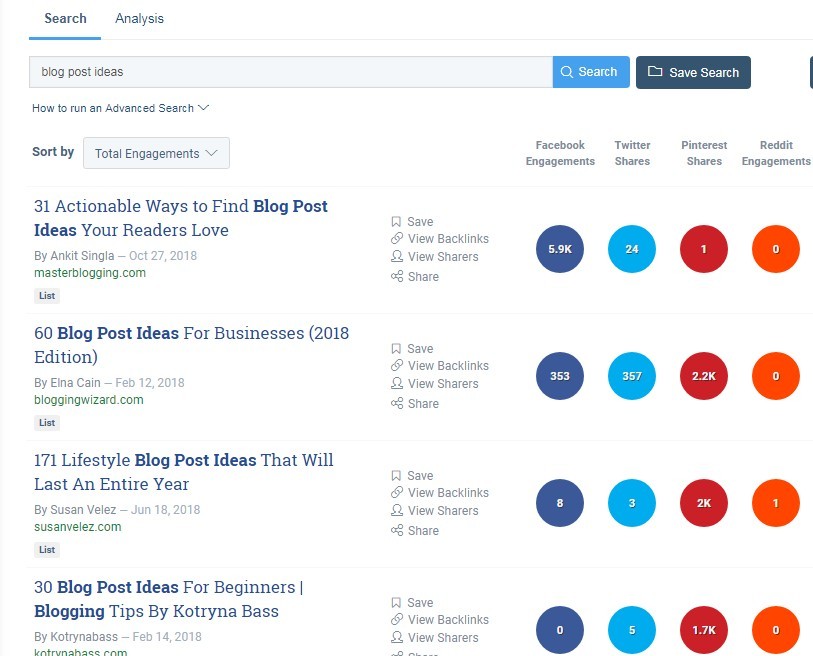 As you can see, there are blog post ideas almost everywhere you look! These tools can help you to improve your blog post titles and refine your blog post ideas to make them more creative.