The successful sales funnel begins with an effective lead magnet. People don't tend to give away their email addresses to strangers. You need to entice them a bit to give you their information. You need to offer a lead magnet that converts.
A quality optin that attracts targeted leads and builds trust by helping your prospects navigate a problem, implement a strategy or gives them a useful tool is one of the most effective sales l and marketing tools.
In this blog, I'll review the qualities of n effective lead magnet for your online business.
First, let's cover, What is a lead magnet?
Lead Magnet Definition

Lead magnet (also known as opt-in offer) is an incentive that you offer your potential buyers in exchange for their contact information. This may include their name, email and possibly phone number depending on your business model.
Lead magnets can take the form of downloadable content, such as ebooks, white-papers, checklists, video series or a strategy guide that helps the user.
Your readers will be enticed by the offer of something free. They will join your email marketing list to in order to receive your lead magnet. Then, you deliver the lead magnet through an autoresponder. Finally, you are able to continue to market based on the audience's needs and wants. This is a formula that continues to work for thousands of online marketers.
Let's examine some lead magnets that are effective. Digital Marketer generated 28,507 leads in 45 days with a lead magnet that made life a little easier for their audience.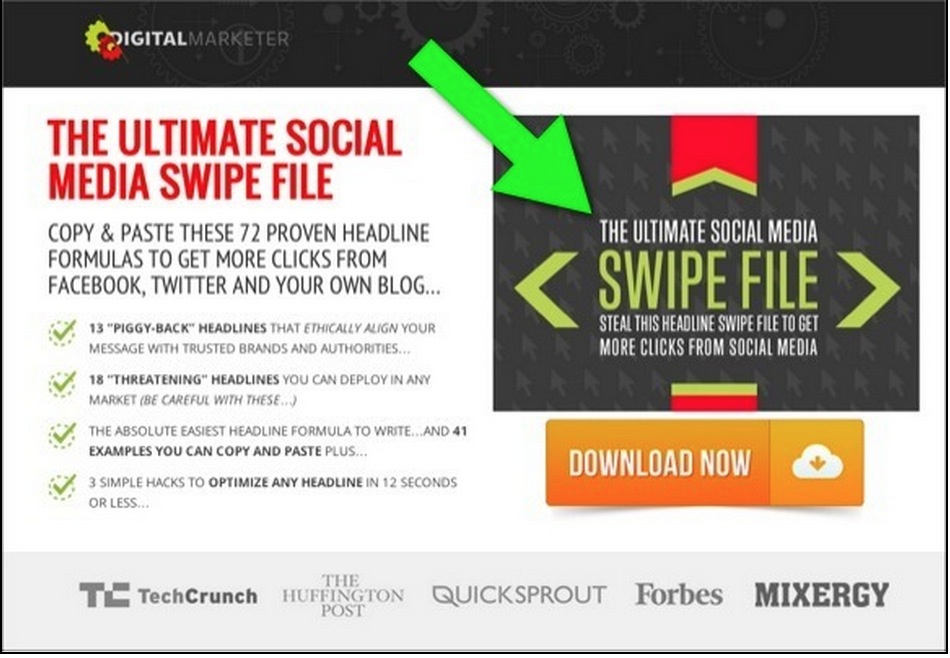 Check out Optin Monster's useful guide: 12 ways to convert abandoning website visitors into subscribers and customers.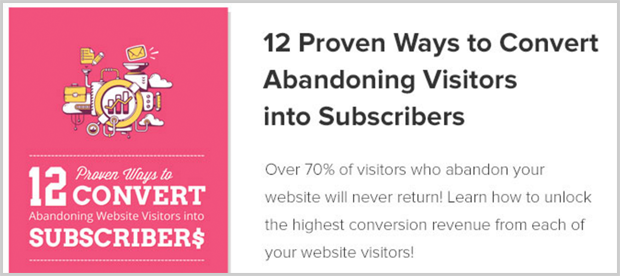 Now that you've seen some great examples and how well they convert. Let's check out what makes a good lead magnet.
What makes for a good lead magnet?
In order for your lead magnet to be effective and high-converting, it needs to meet the following criteria:
It's easily consumed–your audience gets the information quickly
It's action-driven- the audience can easily apply the information in their lives
It creates noticeable improvement–people focus on results. Make sure that your lead magnets provide noticeable results.
It's free. People flock to free, even if they have to pay shipping. Having a free offer will draw people in.
It's relevant. If your community is all about weight loss, don't offer the latest dating solutions.
It's instant. Give it to them right then and there. An autoresponder is perfect for this.
Ways to Create a Lead Magnet Quickly
If you are like me, you want to drive traffic and get leads yesterday. You don't want to spend a ton of time creating your lead magnet. Here are some ways to create a lead magnet quickly that won't completely break the bank.
1. Turn Your Best Blog Post into a PDF Download or Report

Your most valuable content may be sitting on your blog. Turn it into a guide and give it away! This strategy stakes about ten minutes. You can copy, past and export into a valuable PDF document that will help to grow your list.
Recommended tool: Try Beacon to easily create professional looking lead magnets.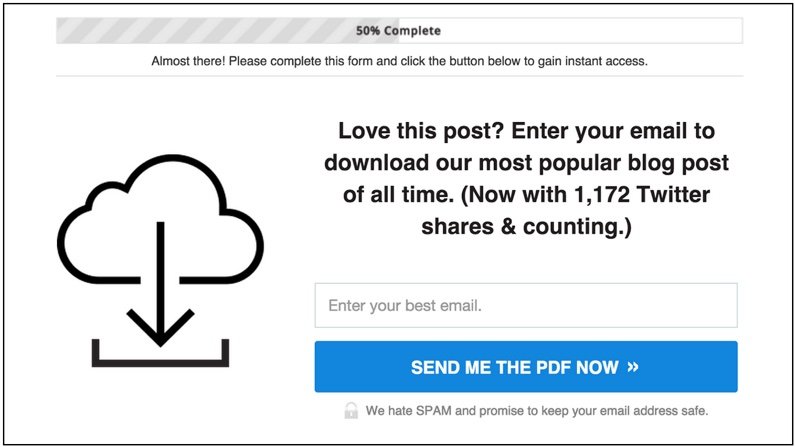 2. Got Transcripts or Aduio Files? Give Them Away!

Podcasts or YouTube videos can be used by turning their transcripts into a PDF. You will have to proofread it before you can give it away as a lead magnet. This m can take about 30 minutes.
Recommended tools: Try one of many online transcription services, such as Rev, Trint, or Datalyst.

3. Read Your Blog Posts Out Loud

Valuable blog post content can be recorded and turned into an audio file, which you can use as a lead magnet. This will only take about 15 minutes.
Recommended tools: To give away an audio file, you can use a free service like Audacity. Or you can use a paid service like GarageBand, Adobe Audition, or Twisted Wave to create a professional sounding recording.
4. Create a Quick PDF Checklist to Match Your Blog Post

Take your content and create a checklist. It is one of the simplest things to do.
Here are some ideas for lead magnet checklists:
Checklist of essential materials for a do-it-yourself project.

Checklist of ideas during a recent brainstorm.
Checklist of steps to take on a particular project.
Itemized steps for a how-to blog post.
Must have apps and programs that you use.
Once you select an idea, it is as simple as typing up your checklist and turning the document into a PDF to give away. Remember to add a link to your website at the bottom of your PDF checklist, so your clients will return to your website. Even better, add a specific call to action that links to a sales page or other blog post where your subscribers can learn more on the checklist's topic.
This strategy will take you about 30 minutes to accomplish.
Recommended tools: This simply requires Microsoft Word or Google Docs. Then save it as a PDF when you're done.

5. Swipe File of Your Best Work

A "swipe file" is a compilation of your best sales letters, emails, blog posts and other copy that you want to "swipe" and refer back to later. Create a "swipe file" of your best work. This can include your favorite quotes and best blog posts.
This project should only take about 30 minutes if you already have the documents compiled.
6. Statistics

Everyone loves numbers and statistics. There is something about a statistic that gives the results more credibility. Share real world results, or even sharing how you compile the numbers can give your clients extra value in a lead magnet.
Make sure that you're not sharing confidential numbers or company data. However, if there are numbers that you can share, you can turn them into excel documents, graphs and marketing results. An infographic will nicely display the graphs.
This project can take about 30 minutes.
Resource tool: Canva.com can help you turn your statistics into an infographic.
7. Give Away a Piece of Product (Hint: Chapter of Your Book)


It is important to remember that you eventually want to sell your product when you create a lead magnet. Giving away a chapter of your book is a great lead magnet because ti gets the readers hooked on what you have to say.
Your lead magnet should pre-sell whatever product or service you'll eventually ask your subscriber to buy. Therefore, giving away a portion of it is always a great idea. For authors, this will be a chapter of their book, designers may give away a website template, consultants could offer a module to their online course.
Giving away a free sample enables your subscribers to experience what you have to offer firsthand.
This can take as little as ten minutes since you should already have the product. It will just mean transferring it to a PDF and adding a call to action at the end.

8. Give Away Your Own Personal Routine

People want to know what your routine so they can tweak theirs and create the results that you are having. If you feel that your routine will help your potential customers, give it away as a PDF!
The routines that many are giving away as lead magnets include eating habits, exercise routines, sleeping schedule, productivity habits, marketing schedule, vacation habits, personal shortcuts, and blogging routines.
An example of a routine lead magnet may be a mechanic offering the "fastest way to change your own oil."
This can lead magnet may take about 30 minutes to type up.
9. Give Away Your Slide Decks of Your Past Presentation

Many people have slideshows for presentations that they have done in the past. If you have a PowerPoint or keynote presentation on your hard drive, you can use it as a lead magnet.
If you hosted the event where you spoke, you likely have rights to the presentation. However, if you were sponsored at an event or were a guest speaker, you may need to ask permission to use that presentation.
This can take ten minutes to find on your hard drive and put together as a lead magnet.
Once you start getting creative, you will discover that you have a wealth of information that you can package and turn into lead magnets for your online business! It doesn't even have to take very long to create some of them if you don't have any content sitting around already. Simply chose one of the techniques above and apply it to your niche!