Believe it or not, but SEO isn't the only thing that will attract or repel your readers. A great blot post format can determine whether people stay or leave your website.
It's true! People are looking for scanable information when they read blog posts. They want to find that information quickly.
So, I've gathered some tips for formatting a great blog post.
Short Sentences and Paragraphs
When people are reading online, they want the information NOW. They want to be able to quickly scan the blog post and determine if the answers to their questions are going to be found within the blog.
Keep your sentences short and to the point. Readers don't want to dig through flowery language to discover your point.
Keep your paragraphs to about 2-3 sentences. This will break all the high school rules that you learned for constructing paragraphs, but visually it will be easier on your reader's eyes.
Draw Your Reader's Eyes to Important Aspects
When readers see a sea of text, it can be difficult to scan through and discover the important information. You want visual variation. Use bold and italics to emphasize the main keywords and points.
Visual variation makes your blog post more scanable. Readers can quickly discover the most important topics when their eyes are drawn to bolded words.
Use Headers and Subheaders
Break up your content into sections. Use headers and sub headers when you start to talk about something new. This will not only provide some additional visual variation, but it helps the readers scan the blog post and discover whether it will contain the information they want.
Many times readers will discover new content and simply scan it and bookmark it to come back to it later. Often people access the information on their phones. They may not have the time to read the full blog post, but they will be determining whether it is worthwhile and they should visit the site again.
Make sure that your sub headers are cohesive and related to your headers. If you are discussing many things under your header, you may want to number your sub headers.
Keep it Readable
While readability is a bit different that formatting, it is extremely important. People should be able to easily understand your blog posts. Avoid using complex industry jargon and stick with a middle school reading level.
To determine the writing level, you can use the Hemingway app. Enter in a few sentences and it will let you know what grade level you are writing.
Here's an example of a post-graduate sentence that would turn many people off. It is simply too complex and does not get to the point quickly:
"With astronomical advancements regarding efficiency and visual communication in design best practices, creators are taking more process-oriented approaches to the development and building of their products than they ever have before."
Whew…can you see the complexity? It is a bit too much.
Whenever possible, you should use the more simple word. For example, you can replace utilized or leveraged with the simple word "used."
The following sentence is another example of being too wordy:
"I strategically leveraged my mobile device in order to locate the place in which I would consume my dinner."
That can be changed to simply:
"I used my phone to find a restaurant."
Do you see how much easier the second sentence is to understand. The first sentence requires a bit more thinking to grasp the meaning.
Use bulleted or numbered lists
Readers love lists. They draw out the important elements quickly and easily.
Here are five great reasons to use a list in your blog article:
Lists are easy to write.
They create welcome white space in the article.
The reader's eye is drawn to the lists and causes them to stop.
Lists are very scanable.
Give the impression of getting more information with little reading.
You read it, didn't you? Most likely your eyes were drawn to the list as well.

Try to work a list into each of your blog posts.
Use Relevant Images and Graphics


Researchers discovered that website visitors scroll through 100% of an article if it contains images and videos.
They will scroll – not read- but it is still useful.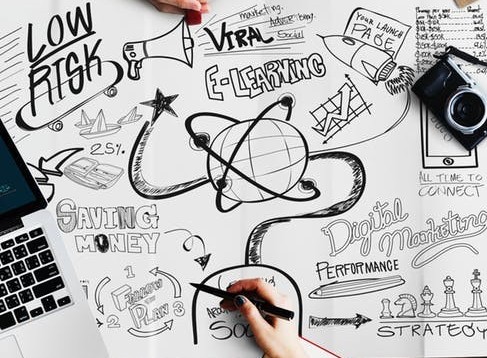 Scrolling and scanning your article means that readers are more likely to pick up on your message. They will also be more likely to click on another one of your links in your website. In increases the chance of seeing your call to action.
Images and graphics keep your visitor engaged. You should try to find relevant images and infographics for all the data that you share on your website. Insert the graphics and images throughout the article, not simply at the top.
Use Image Captions
When visitors come to your website, often their eyes wander to the blog post image before even reading your first paragraph. Make the image count by adding a caption to it that will hook your visitors.
The image caption should fit the theme of the picture, but it also should be engaging and descriptive of the article. You could include questions, power statistics and intriguing information. Captions are almost as important as the headline of an article, so don't neglect them.